So what are you making/doing for Cinco De Mayo? It is usually a great excuse to go out and have someone else fix your Mexican food. I have been wanting to try Mr. Jalapeno in Bonney Lake since my sister-in-in law recommended it as a fun little place. But seeing as it is a mutual night, we will be doing a quick celebration before everyone rushes off to their different places.
So this is what is on the menu for this evening...

Southwest Chicken Salad
(which I made several nights ago with rave reviews from the family)
Click
HERE
for the recipe.
Then I thought it would be fun to make some margaritas (non-alcohol type) for some festivist. We have done these in the past. You just add water to the margarita mix (usually there are directions on the back of the bottle/can), add ice then blend. Don't forget to salt the rim of the glass by rubbing a lemon or lime wedge around the rim and dipping in kosher salt. Very yummy and when served in a fun glass, your kids will love it.
Finally, I will make everyone stand up and doing at least one round of the macarena since I own the original CD which I purchased a bazillion years ago in Mexico while on a cruise with my mom, sisters and sister in law. In fact we had the taxi/tour driver drop us off at a CD store where I went in and tried in my best one year high school Spanish to tell him what I wanted. Finally our taxi/tour driver came in and helped in the translation so that I walked out with this... aaaah yeah baby.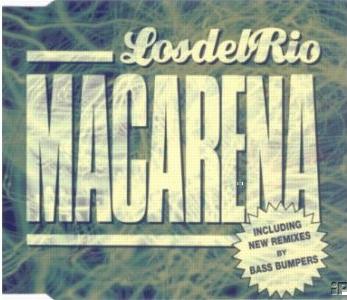 Of course by the time I got the dance down, it was already headed out the door making way for some other trendy dance. It was fun while it lasted.
Happy Cinco De Mayo